Another recipe in honour of this weeks giveaway, this time using oatmeal. Click here to enter.
I love bonfire night, preferably on a cold crisp evening with fireworks and a bonfire and then maybe back for a big chilli or other warming dish. Bonfire night is also a great excuse to make Parkin as bonfire night and treacle seem to be best friends. If you haven't heard of Parkin keep reading!
I've always lived in the south and most of my friends haven't even heard of Parkin. I have to say I think they're missing out!However, my mum is from Manchester so we have been making this recipe for years. It is from a recipe book she used in home ec at school called The Manchester Cookery Book. It was a real favourite of my grandad's and I'm always reminded of him when I make it. Yum!
It's best made 2-3 weeks in advance if possible. This is clearly a treat recipe so should only be eaten occasionally.
Find all recipes using porridge/oats/oatmeal here.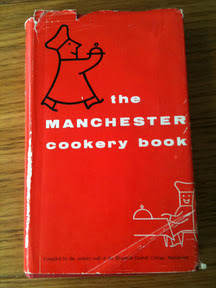 Parkin is so easy to make. The only trick is to wrap it up tightly once it's cooked and leave it for around 2 weeks so it becomes all sticky and gorgeous. I always make two loaves so that when I can't wait I have one to eat and one to save.
You start by melting the fat and syrup slowly in a pan. I use half margarine and half lard (well I actually used the vegetable version). While it is melting put all of the dry ingredients in a bowl and make a slight well in the middle, stir in the syrup mixture and once incorporated mix in the milk. Pour into two 1 litre loaf tins and bake for about 1hr 15mins. As this is an old recipe book it doesn't specify the oven temperature but I sent it to about 140C in a fan oven so maybe 150-160C if you don't have a fan oven.
Once it's been left for a couple of weeks unwrap and serve with a glass of ice cold milk. Delicious!
Parkin Recipe
I have typed it up as it is in the book a lb is 16oz and approx 450g
1/4lb Margarine and lard
1/2lb Syrup (you can mix golden syrup and treacle)
1/2lb Oatmeal (the medium one is best)
3oz Plain flour
2oz Soft brown sugar (dark or light depending on how treacly you like it)
1tsp ground ginger
1/3 pint of milk
Pinch of salt
Bare 1/2 teaspoon of bicarbonate of soda
Melt the syrup and fats in a saucepan over a low heat
Place all dry ingredients in a mixing bowl
Mix the syrup into the dry ingredients
Stir in the milk
Pour the batter into two loaf tins and bake in a slow oven for 1hr15mins
To Share the Love…
I will enter this into:
The Biscuit Barrel Challenge hosted by I'd Rather Bake Than… who has the theme Winter Warmer
Love Cake hosted by Jibber Jab as the theme this month is 'Big Bang!' and as a Bonfire Night treat this is perfect.
Related posts: